Exceptional College Admissions Counseling with Ivy League Experts
Take the stress out of the college admissions process with the help of Ivy Academic Prep. Applying to the right college is one of the most important decisions you will make in your life. Let's face it, understanding how to become a competitive college applicant can be a daunting and confusing task. It can also be a time consuming process. The professional admissions counselors at Ivy Academic Prep help you apply to college from start to finish and give your college applications a competitive edge. We advise students personally and honestly and it is our goal to create an experience tailored to best suit you. Approach your college applications with confidence by working with one of Ivy Academic Prep's elite college admissions counselors today.
If you are a high school student, Ivy Academic Prep can work with you to make your portfolio and college applications stand out. We also welcome the involvement of parents and families and you can choose to have them involved as much or as little as you want as you make your big decision. Our admissions package includes essay writing consultation, assistance choosing the schools that are the best fit for you, and expert advice on using your service and passions to make your application count. Our admissions package also includes preparation for admissions interviews and campus visits as well as a number of other services such as help keeping track of deadlines and navigating the mountains of paperwork that college applications require.
To learn more about our packages and services, keep reading to discover exactly how we can help. Or, choose one of the following options:
Get Ahead of the Competition
Good grades and superb test scores are no longer a guarantee that you'll get into the colleges you apply to. A few decades ago, you could rest assured that if you were at the top of your class that you could attend almost any school in the country. Times have changed. Year after year, universities are reporting record highs in the quality and number of applicants. This intense level of competition means that even valedictorians are getting rejection letters from the best schools. Last year, Harvard University admitted a mere 5.4% of applicants and even a big state school like UCLA turned down almost 80,000 student applications. You need a competitive edge and Ivy Academic Prep is here to help. We can show you how to accentuate your strengths and turn your flaws into advantages. Our skilled admissions coaches know how to make you stand out from the crowd.
If you are worried about test scores and want to have SAT or ACT scores that shine, you should also take advantage of our elite test preparation tutoring services. Click here to learn more about our elite one-on-one test preparation tutoring.
Applying to college is a time consuming and costly experience. Not only is the application process itself a daunting task, but getting into the wrong school or choosing the wrong major can be a waste tens of thousands of dollars in tuition money and living expenses. The elite college admissions counselors at Ivy Academic Prep can help you to make sound decisions and avoid common pitfalls. Our experienced counselors will guide you in finding the right school, applying for financial aid and scholarships, and when you take your first steps forward in your college career. With the assistance of our admissions professionals, not only can you save yourself months of headache in the college application process, but we can also save you years of heartache and costly tuition fees by helping you find the best school for you.
Crafting a successful college application is an art form. Although many students have the key qualities needed to get into their dream schools, most lack the experience necessary to make their application shine when it arrives on the desks of the admissions committee. The elite college admissions counselors at Ivy Academic Prep will help you create a college application that showcases your leadership experience, highlights your academic accomplishments, and transforms your successes and into a compelling application that tells your story and makes you stand out from the crowd.
You need a compelling and carefully crafted application to get into the right school for you. Each year, thousands of students get into the "wrong" schools for them and spend years languishing at a university that doesn't fit their needs. From start to finish, we help you discover what kind of college experience you want to have, what you want to study, and which school is the perfect fit just for you. And, while you might dream of going to an impressive school like Harvard or Yale, it is even more important that you get into a school where you can get the most out of your college experience. Every student is different and finding the perfect school where you will thrive and grow is our specialty.
Find the Right School for You
Every student has at least some of the key ingredients needed to be an outstanding college applicant. Whether you have great grades, impressive test scores, or you are a committed leader of a student organization, Ivy Academic Prep will show you how to highlight those strengths and make them a key part of your college application. You already have impressive accomplishments and we are experts at making those accomplishments stand out and get the attention of admissions committees. We have in-depth experience at making students look good and we are here to help you.
Ivy Academic Prep helps you enhance and improve the parts of your application that are holding you back. Let's face it, colleges are looking for an overwhelming range of qualities in their "perfect" applicants and you might need to improve a key area on your application such as your leadership experience, your community service, or figuring out exactly what your "hook" is that makes your essays shine. The admissions consultants at Ivy Academic Prep will evaluate those problem areas and help you create a plan for turning those weaknesses into strengths. Now, more than ever, becoming a competitive college applicant requires planning and hard work. Ivy Academic Prep is ready to transform you into the best applicant you can be.
Our elite admissions counselors have years of experience helping students get into the top schools. Our counselors have taught at Yale University, they graduated from Ivy League schools, and they know what admissions committees are looking for in a college applicant. We are more than just skilled professionals, we also care about your success and will give you the personal attention you need to maximize your potential. With extensive training in crafting strategic applications and in-depth experience helping students craft outstanding essays, our admissions coaches have the tools you need to make your college applications shine. With Ivy Academic Prep, you will get one-on-one meetings with a top consultant, your consultant will give you personalized advice on writing your essays, and your admissions consultant will be available to you via Skype or telephone to answer your questions and guide you forward.
Our Elite Admissions Counselors
Your success is measured in concrete terms when you get your acceptance letters. Our students have been admitted to a wide range of schools ranging from elite Ivy League Schools like Yale and Harvard to competitive state schools like Michigan State University and small liberal arts schools like Middlebury College. Although admissions committees have to make difficult decisions and they have to reject a lot of outstanding applicants, our goal is to give you a competitive edge that gives you a significant boost in your chances of success.
Our comprehensive admissions package is the gold standard of admissions counseling. You'll receive one-on-one help from one of our expert admissions coaches, assistance with your essays, and guidance from start to finish in the admissions process. This package is ideal for high school freshmen, sophomores, juniors, and seniors looking for expert advice through every step of the college admissions journey.
With an admission evaluation report and counseling session, one of our expert admissions coaches will review your application materials and educational history and help you craft a plan for admissions success. We give you an in-depth analysis of your strengths, weaknesses, and a one-on-one session with one of our admissions counselors. This admissions evaluation service is perfect for students who are self-motivated for admissions success but who want an expert to review and assess your college candidacy before sending in your application.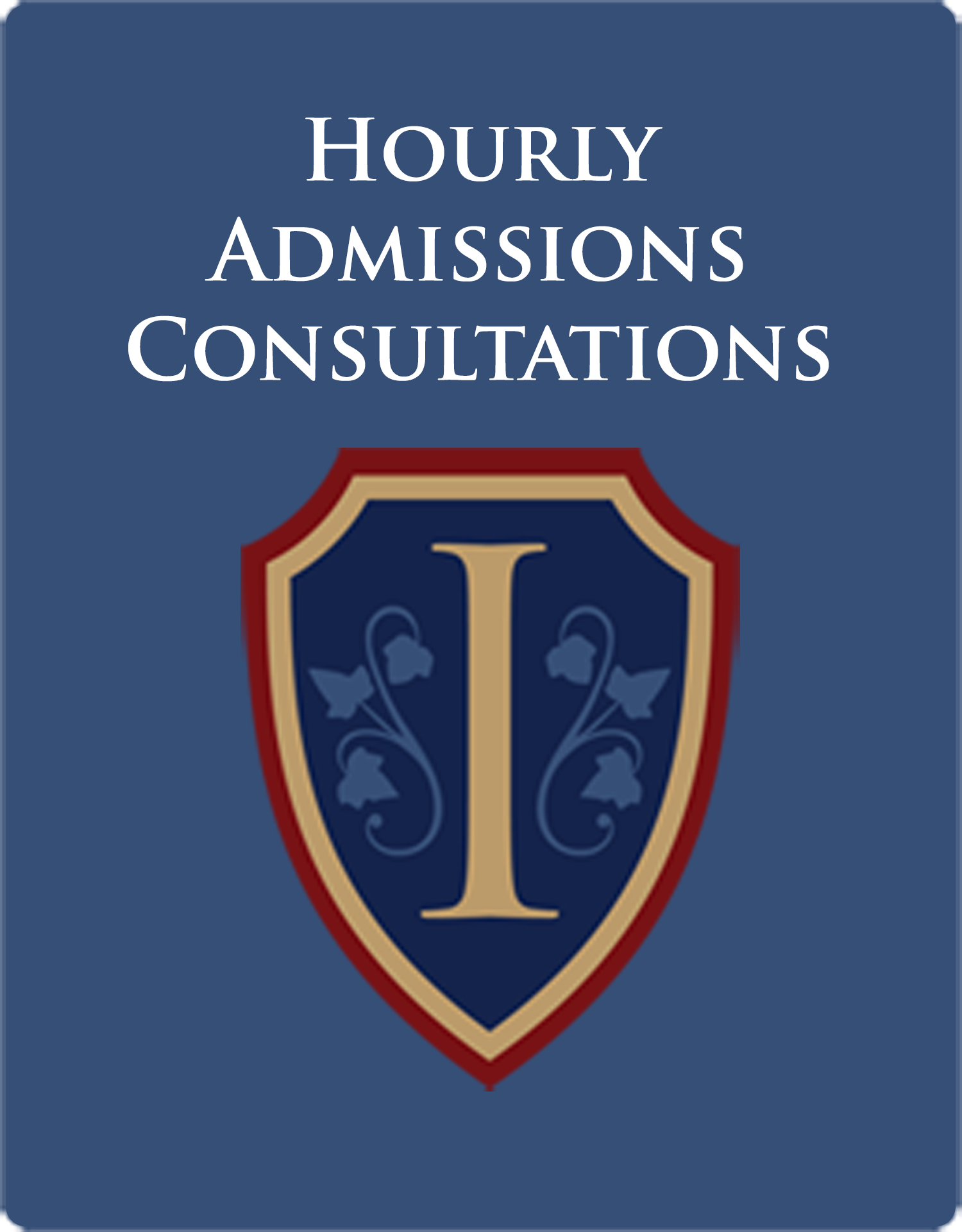 All of our admissions consulting services are available on an ala carte basis. You can work with one of our elite admissions coaches to gain valuable help on individual parts of your college applications. Whether you need assistance with your admissions essays, help deciding which schools are best for you, or you are just looking for expert advice on how to build your leadership experience, Ivy Academic Prep is here to help. Our ala carte services are perfect for students who need quick help with one or two parts of their college applications and for students who are on a limited budget.